5 WordPress Maintenance Tips to Keep Your Site Running Smoothly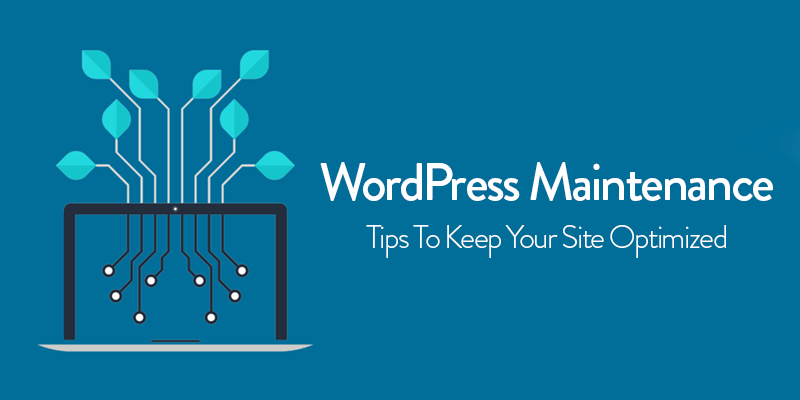 5 WordPress Maintenance Tips to Keep Your Site Running Smoothly
Is your WordPress website have feeling a little slow now? Just like everything your website also needs to be maintained regularly if you want your site to keep working regularly.
There are a couple of simple steps you can take to recover your site into tip-top shape. Maintenance tips are the ongoing approaches to make you reach its top performance. These techniques are typically easy to implement, and will enable your site to keep running as smoothly as possible.
Always backup your site before making any changes, particularly if you will be deleting anything from the website. In this article, we'll go over than five simple approaches to maintain your Simple WordPress theme.
Make sure to update your WordPress site regularly
Keeping your site updated is one of the most important things one can do to make sure the safety and security of their website. As WordPress is highly popular over the internet, it has become the common target for the hackers. In the event that you don't keep your WordPress updated to the latest version, you're leaving your WordPress old, with security vulnerabilities on your site. Hackers have approaches to scan for sites that are utilizingthe older version of WordPress, and they know how to take advantage of your site's vulnerabilities to hack your site.
Not only you need to update the WordPress software, but also all the plugin and theme updates to the latest version. Update tab tells you everything that needs to be updated.
Maintain regular backups
Look at your backup. In the event that you just do only one maintenance task, ensure first that you back up your site. Everything else is waste on the off chance that you don't have a backup you can depend on.
Before running a backup, you need to ensure two things:
Check that your backup really works, even huge companies don't make sure that their backup works which can cause problems.
Your backups are available.
For this problem you should periodically try to restore your backup to a test server. Also, try to keep backups for different time periods.
Check for flagged span comments
You will be surprised by seeing the quality comments getting accidently flagged as spam. Most of the flagged comments you will go through are mostly spam, but there are some comments that are genuine comments and are worthy of being saved. One should not keep the spam comments, and should remove them as soon as possible.
Optimize your database
One of the important maintenance tasks that gets mostly forgotten is optimizing the database. Your site stores a lot of important information that are necessary to create and manage your site in a MySQL database.
Posts modifications, transients, table overhead, spam comments, and more. Every individual database entry is not a big deal, they can make your site slow.
Fix broken internal and external links
Broken links are very for your clients experience and also to your SEO. Broken links are very difficult to find manually, but with the utilization of the right tools and plugins one can instantly remove every broken link in their WordPress site. There are plenty of WordPress plugins available for scanning your site for broken links.
Wrapping it up!
While creating a website from a simple WordPress theme it is important to maintain and keep your site secure. All the task may take some time, but they are worth the effort. Maintaining your WordPress site is something that one should absolutely need to do if they want your website secure, running well, loading fast and attracting and engaging new readers. Maintenance should always be in the back of one's mind.